A lot of people have a sweet tooth, and who can blame them? There's nothing more satisfying than to have your favorite dessert after a meal, or after a long day. And of course, there are those who like to taste something sweet with their morning coffee or to have a snack while watching their favorite movie or TV show.
And then when we eat too much sugar, we realize that it may not have been the healthiest decision in the world. But how could we ever say no to something that tastes so amazing and still not overdo it?
Fortunately, there are some delicious options when it comes to this that are actually healthy and low in calories, which will not cause any weight gain. So if you want to know what are your options, check out our phenomenal suggestions below.
Dessert Options That Are Perfect For Those Who Are On A Diet
3-2-1 Cake
If you're looking to make a dessert that requires a minimum effort, then you should definitely opt for this one. In only a few minutes, you can make your own so-called mug cake. All you need is a couple of ingredients, a small amount of water, and a microwave.
And what's great about it is the fact that it doesn't have more than one hundred calories, which is a great option for those who are leading a healthy lifestyle, or are on a diet. So what do you need to have to make this heavenly dessert?
Just obtain one box of angel food cake mix, along with one box of any other flavor cake mix of your choosing, combine these two together, and put the mixture in a huge bowl. Then you should mix two tablespoons of water with three tablespoons of the mix you've chosen and microwave it for approximately one minute and that's it. You've got your new favorite snack!
What About Dessert Boxes?
Are you in a mood for giving? Or maybe you think it's the perfect time to treat yourself to something that tastes amazing, yet that's not going to add any extra pounds? If that's the case, then maybe you should consider acquiring a lovely dessert box.
This suggestion was added for those who are not in the mood to cook anything, yet want to indulge their sweet tooth. What's great about them is the fact that these dessert boxes can feature healthy options which means that you're not going to feel any guilt after consuming them. Just because they contain snacks, it doesn't mean that they are necessarily unhealthy.
On the contrary. What's even better is the fact that a lot of companies that sell these boxes have amazing vegan options as a part of their offering. Furthermore, they are being wrapped and pre-made for you, so the only thing that you should decide is what goes inside.
Any Other Healthy Suggestions?
Cheesecake Berry Parfait
If you're searching for a refreshing dessert that's similar to fruit parfait and pudding, yet much more delicious, then you should definitely take a few minutes of your time to make this cheesecake berry parfait.
All it takes is two ounces of softened cream cheese, four teaspoons of sugar, 2/3 cup whipped topping, 1-1/2 cups of mixed fresh berries. Then take a small bowl where you will beat sugar and cream cheese until this mixture become smooth and then fold in whipped topping.
Take two parfait glasses, and then put a fourth of the cream cheese mixture, along with the fourth of the berries. You should repeat layers and top everything with additional whipped topping. Of course, this is optional. Put the glasses in the fridge and chill until the dessert is ready for serving.
Banana Oatmeal Chocolate Cookies
Now, here's something that's definitely far from unhealthy, since one cookie has only sixty-six calories! How is that even possible? This can certainly be perceived as a healthy snack that only requires a little bit of effort. So what do you need to have to make it? These are the ingredients:
Two ripe bananas, mashed
One cup of quick oats
½ cup of semi-sweet chocolate chips
One tablespoon of peanut butter
A little bit of honey (that's optional)
So what you should do is preheat the oven to 350 degrees and then take a large bowl where you will place all these ingredients. Once everything is properly mixed, put a big tablespoon of this mixture on an ungreased baking sheet.
Bake for approximately fifteen minutes, or until these cookies start looking golden. Once that happens, remove them from the oven and that's it. With this mixture, you should get around fifteen cookies.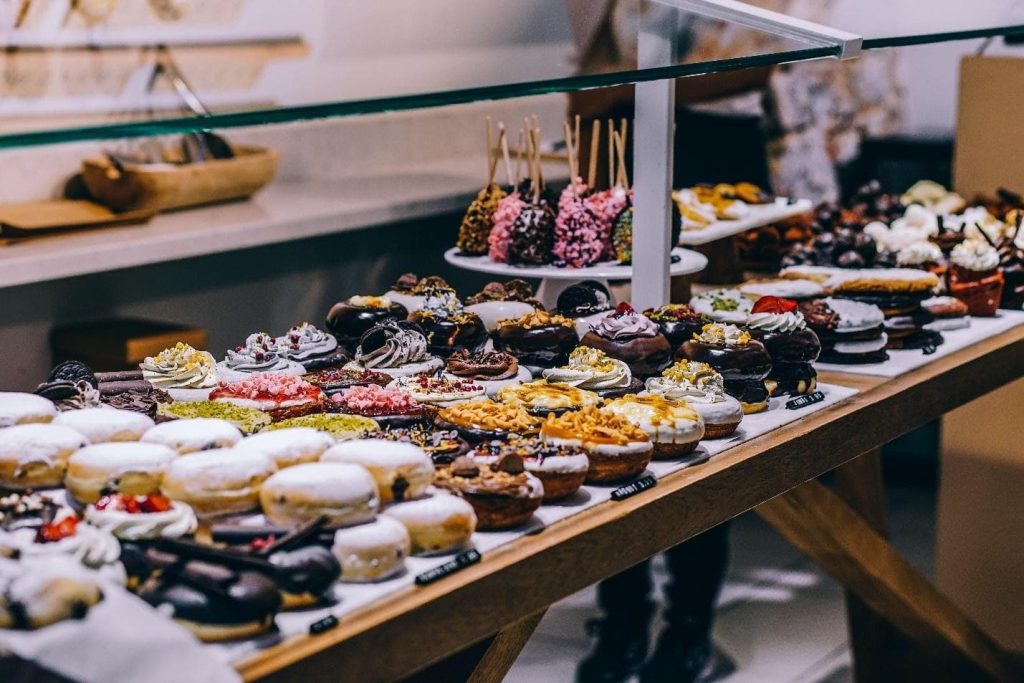 No matter how healthy we want to be, every now and then we should treat ourselves with something sweet, otherwise, we will go crazy. So if you want something that's yummy, yet not loaded with unhealthy stuff, then you should surely consider some of these suggestions!