Is it possible to enjoy bread while sticking to a ketogenic diet? This is one of the most common queries people have — and it's completely understandable. After all, bread is a staple food in many countries. Thankfully, we've found 10 keto bread recipes that allow you to get your fill without all the carbs.
Can I Eat Bread on Keto?
There are types of bread that aren't grain-based, but a significant chunk of them are. This means that they are not only lacking protein but they also pack around four grams of fat. Worse, your keto diet is ruined if you eat it regularly — a single slice can have 20 grams of carbohydrates.
What Bread is Good for Keto Diet?
If you really want to eat bread, you have to make your own. The truth is that it's hard to find low-carb bread in your usual grocery store. It's more practical for you to research on keto-friendly ingredients including cream cheese, almond flour, eggs, and coconut flour.
But if you don't have enough time for homemade bread, you can check out the Sola bread. This product only has 4g net carbs per slice and uses 30 percent less sugar than the average bread. There are several stores that sell it — and you can buy it online through Amazon as well.
1) Keto Cloud Bread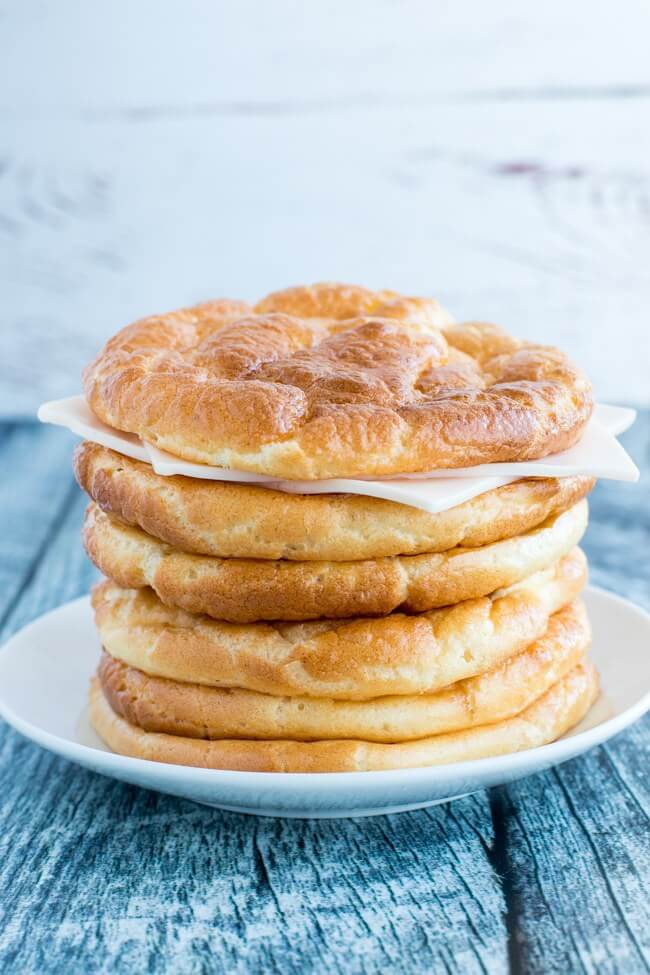 Here's a recipe that got its name from the fluffy appearance of the bread. In order to get this form, the egg whites are mixed with the other ingredients. Each serving has 122 calories, 99 of which come from fat. Unlike the usual carb-rich bread, the keto cloud bread only has a single gram of carbs per serving.
If we were to compare it to something else, it would be pancakes. This is due to its rounded and soft appearance, although its surface is not as smooth. Likewise, this keto bread recipe is perfect if you're always busy — the total time for this eight-slice bread is just 30 minutes on average.
Check out the full recipe here: Fat for Weight Loss
2) Keto Cheese Bread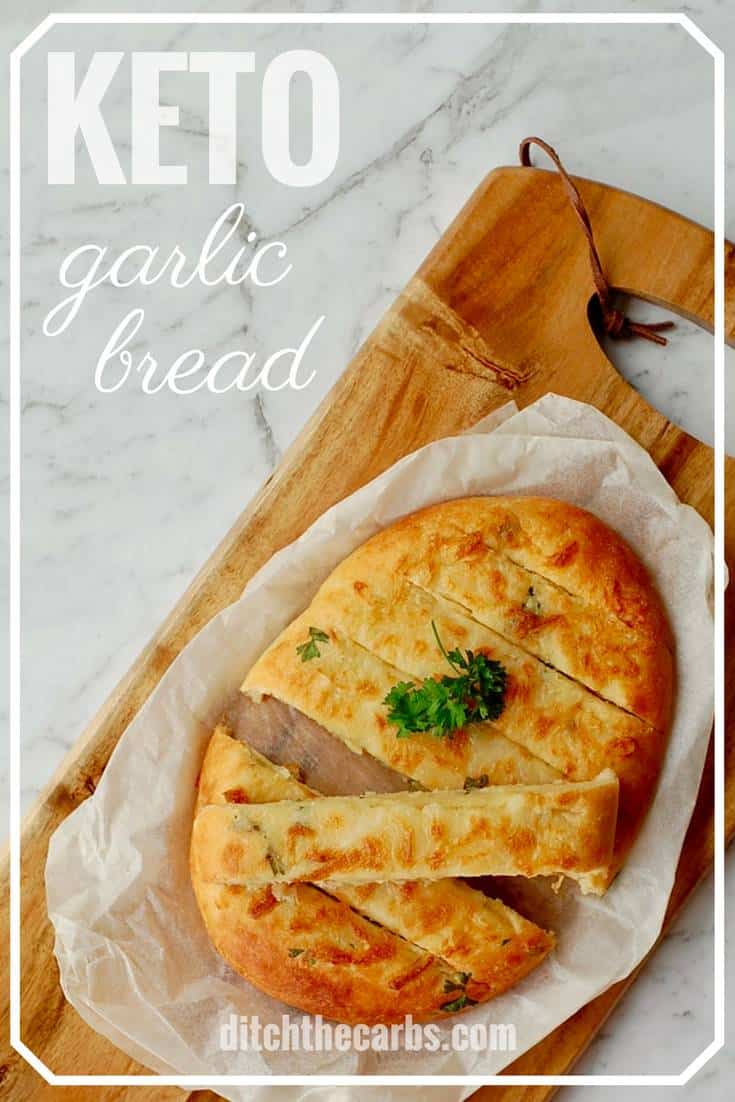 Similar to the first keto bread recipe we have on our list, this one doesn't require a lot of time. If you've got 25 minutes to spare, you can make 10 slices of this low-carb bread. We wouldn't be surprised if this became a favorite snack of yours; the combination of garlic, cream cheese, and mozzarella is too good.
Each serving of this cheesy keto garlic bread has 88 calories from fat. The amount of carbs is 2.4g, but 0.9g of this is dietary fiber. Likewise, one slice provides 6.2g protein that's equivalent to 12 percent of the daily recommended intake.
Check out the full recipe here: Ditch the Carbs
3) Keto Bread Rolls

The cloud bread isn't the only fluffy keto snack here; these keto bread rolls are just as soft and delicious. While these work great with meaty sandwiches, they are also good enough to enjoy on their own. Still, we recommend eating these low-carb rolls with some sesame seeds and high-fat melted butter.
Check out the full recipe here: Kirbie's Cravings
4) Keto Bread Coconut Flour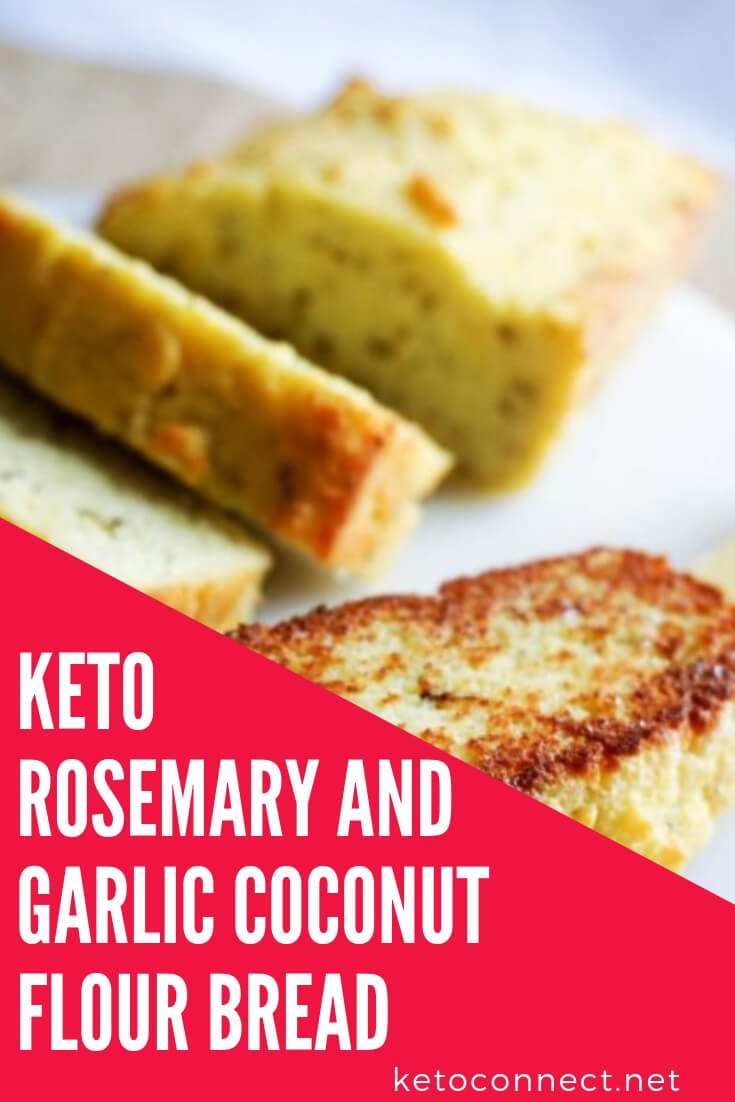 Coconut flour is a good substitute to the usual all-purpose baking flour; it's relatively low in carb count and it has high fiber content. So for this keto bread recipe, you need half a cup of it. One stick of butter along with six large eggs increase the amount of fat and protein — and you'll have 10 slices in an hour.
Check out the full recipe here: Keto Connect
5) Keto Bread Almond Flour

This recipe is specially made for those who prefer having a slice of toasted bread in the morning. And since there are a dozen slices available, you can also have them as sandwiches for later. Each slice has 128 calories from fat, 5.7g protein, 3.5g dietary fiber and less than a gram of net carbs.
Check out the full recipe here: Sugarfree Londoner
6) Macadamia Nut Bread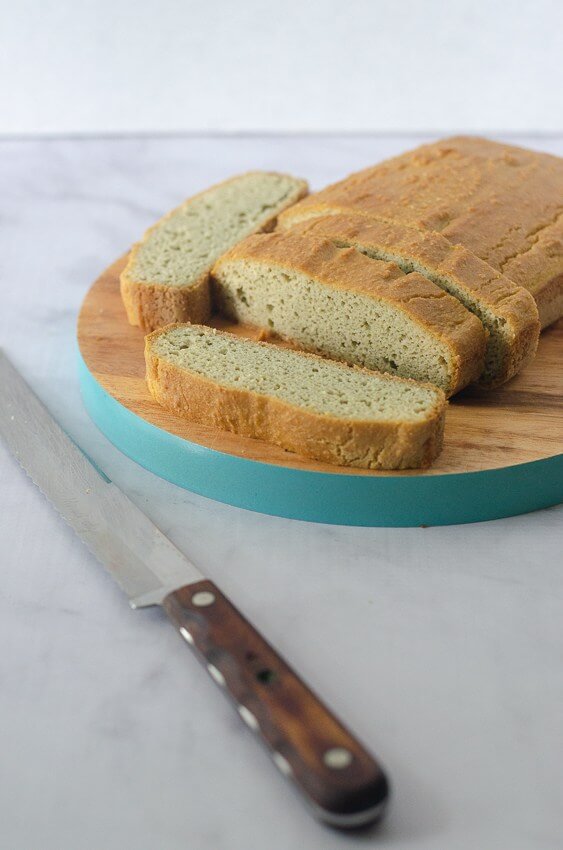 Looking for a ketogenic bread with a soft inner portion and crusty edges? This recipe achieves this classic characteristic of regular bread — all without relying on high-carb flour or gluten-containing ingredients. We recommend preparing this low-carb and high-fat variant if you like peanut butter sandwiches.
Check out the full recipe here: The Harvest Skillet
7) Keto Pumpkin Bread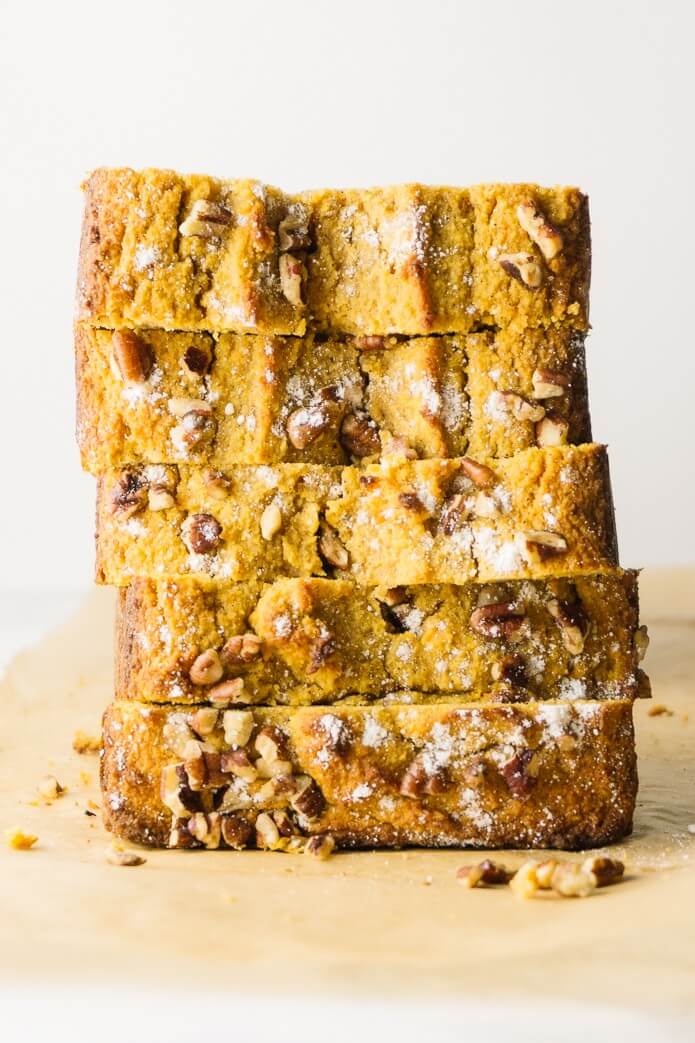 During autumn, pumpkin recipes are all the rage — but this tastes well enough to be had at any time of the year. After all, it has a moist and soft texture to complement its sweet yet spicy flavor. Thus, you can eat it on its own without worrying about carbs; each slice has 14g fat, 5g protein, and 3g dietary fiber.
Check out the full recipe here: Green and Keto
8) Quick Keto Bread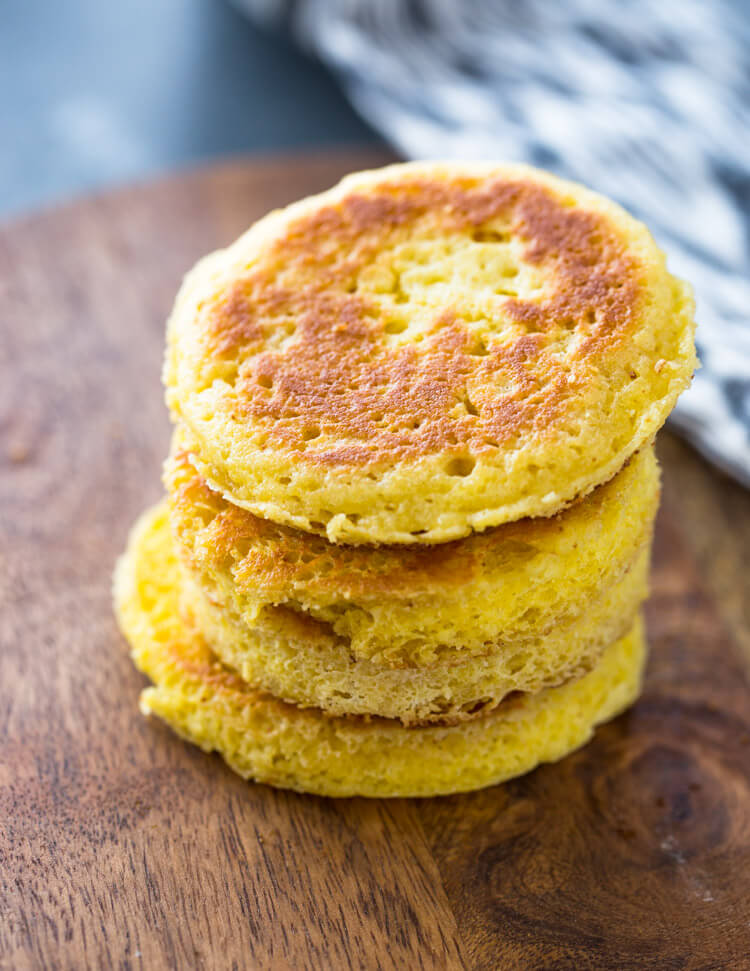 Are you running late for work? If you've only got several minutes to spare, this recipe is for you. All it takes is two minutes to prepare and cook this low-carb bread. Likewise, there are only four ingredients: butter or oil, egg, baking powder, and almond or coconut flour.
Check out the full recipe here: Gimme Delicious
9) Chocolate Zucchini Bread

Who said you're banned from enjoying sweet chocolate when you're on a keto diet? This keto bread recipe allows you to enjoy a delectable snack without sugar. How? Well, it uses unsweetened cocoa powder, coconut cream, and sugar-free varieties of chocolate chips and crystal sweeteners.
Once done, you'll have delicious keto bread that your kids will want to have every single day. Each slice contains just 6.1g carbs to go along with 17.1g fat and 4.9g protein.
Check out the full recipe here: Sweet as Honey
10) Turmeric Cauliflower Buns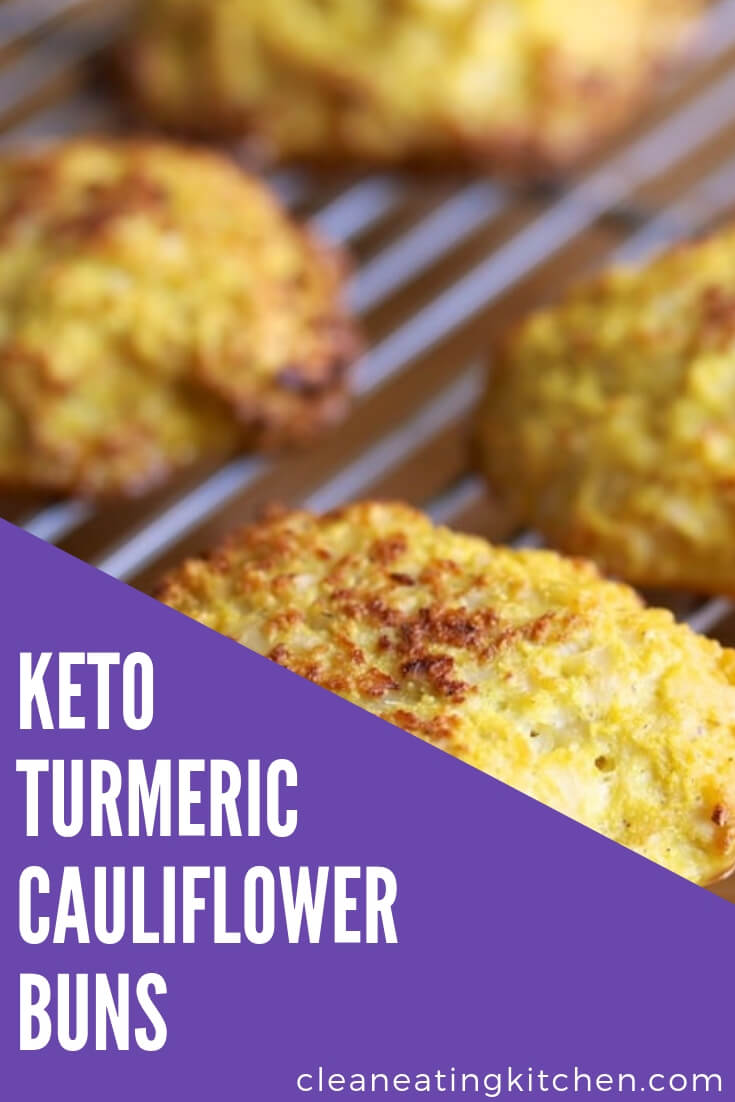 This is arguably the simplest keto bread recipe on our list. Why? It only needs very few ingredients: eggs, cauliflower, coconut flour, ground turmeric, and salt and pepper. Likewise, you can make six slices in just 30 minutes. Each serving contains a mere 59 calories while packing 4.5g protein and 2.1g fat.
Check out the full recipe here: Clean Eating Kitchen
Overall, there are many ways to enjoy bread without going back to a high-carb diet. What matters is that you use low-carb ingredients and you pay attention to the instructions. If you do things correctly, you'll have high-fat bread that's as good as any other.