Are you looking to make a great impression with your eye makeup? If so, then you have come to the right place. In this article, we'll go over a variety of fun and innovative techniques to give yourself that desired, alluring eye look. Your makeup is more than just cosmetics; it expresses your sentiments and mood for the day. It is your way of channeling your inner self and demonstrating your creativity to the rest of the world.
Makeup is an art form, and like any other, it demands experience and patience. By practicing the art of makeup and learning the best strategies and techniques out there, you can achieve a beautiful eye look. When it comes to trying a new appearance, most of us are timid, so don't be scared to embrace your uniqueness. Who knows, maybe you'll use that bold eyeshadow you bought a while back but never used.
Here are four tips to help you gain the expertise you need to improve your eye makeup application.
Make Sure Your Eyelid is Makeup-Ready
Before applying makeup, make sure your face is clean. The same goes for eyelids. Eyelids are prone to oiliness and may have dirt or old makeup accumulated on top of it. This is why you must properly wash your face and eyelids to ensure that it's clean. This step is crucial as it will reduce the chances of you getting an eye infection. 
Next, you may try to figure out whether or not using a primer is right for you. Because there are so many different types of primers available, selecting the right one can be tricky. Before selecting the appropriate primer, it is best to determine your skin type.
Primers can clog your pores and cause breakouts, particularly if you have sensitive skin. In most cases, oil-free primers are the best or least damaging. However, primers can be very beneficial to your skin. They help to create the perfect base by acting as a barrier between your skin and your foundation. It improves the appearance of fine lines and wrinkles, as well as open pores, dry patches, uneven skin tone, and spots. But do you really need a primer? It is entirely up to you whether or not you believe a primer is essential.
If primers don't make a significant difference on your face makeup, skip it. You can also use a concealer that matches your skin tone to mask any blemishes, dark patches, or uneven skin. You can dab it around your nose and the corner of your eye, as it is the darkest. Work your way from the inner eyes to the corner of the eyes to make sure there are no dark spots left.
Put on Some Eyeliner
Let's move on to applying the eyeliner to improve your overall appearance. Eyeliner can be difficult to apply, and it will require a lot of patience and practice to perfect the technique. There are various methods to apply eyeliner. You can put it on using an eyeliner pencil, liquid eyeliner, or even dark eyeshadow. You may use your eyeliner to follow ongoing trends. For instance, the fox-eye trend tends to be popular at the moment. Utilize your eyeliner to achieve that certain look. If you don't know what we're talking about, then you can just click here to find out more about this Disney princess-inspired eye makeup trend. Begin at the innermost corner of the eye and work your way outward, as close to the lashes as possible. You may need to correct it several times, but don't give up; instead, wait for it to dry before correcting it to keep it from smearing. Using Q-tips or baby wipes will make reapplying your makeup a lot less strenuous.
Brush On Eyeshadow
After you've applied your eyeliner and are comfortable with it, you can begin applying your eyeshadow. Depending on the look you want to achieve, you can apply the eyeshadow of your choice. Before you choose your eyeshadow, consider the time of day, the theme, or your outfit. Nonetheless, regardless of the color of your eyeshadow.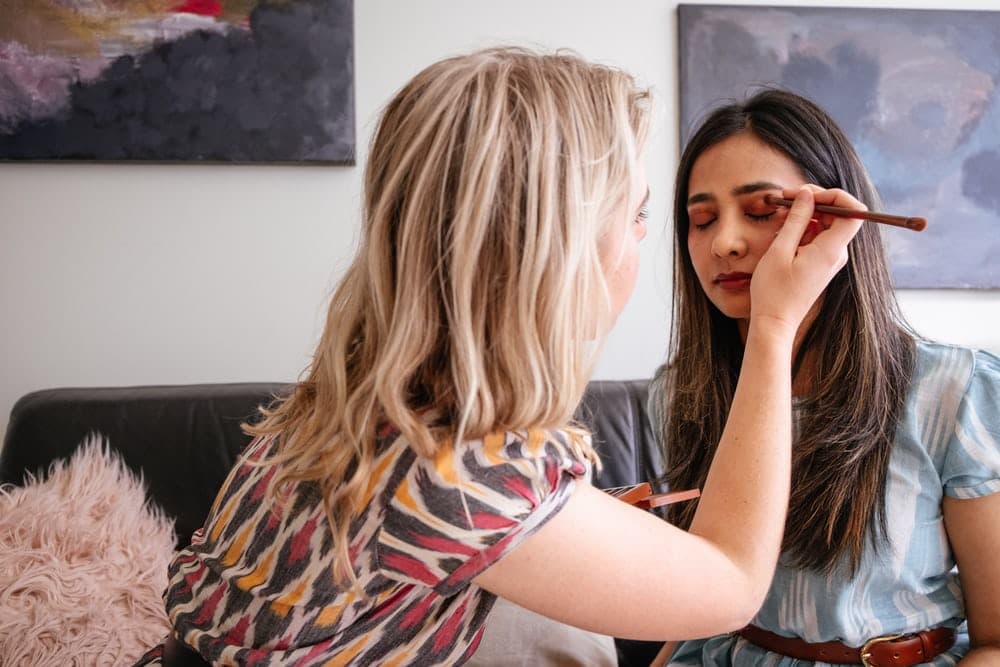 It is critical that you apply carefully and correctly. To begin, select a color that complements your skin tone and apply it from your eyelids to under your brow. Then, choose a darker shade to apply to your eyelids. Following that, you can choose a darker shade to apply to your visible brows by working your way from the middle to the outer brow. All of these tricks are incredible and will help you tremendously. You will become a professional eye-makeup artist with enough practice and patience.