Is your baby ready to take his first steps? Watching them take their first steps is one of the most precious moments as a parent. From strappy sandals to jelly slippers to running sneakers, baby shoes are one of the most adorable purchases you'll make.
Shopping for unique baby boy shoes is a very exciting and overwhelming process. Remember that cuteness is not the only factor when picking out shoes for your little one. Finding the perfect pair of shoes for your baby's little feet is essential for their health and development.
 Here is a guide to help you determine what to look for when buying shoes for your baby.
Weight of the Shoe
Once your baby passes those wobbly steps, they won't stop running and enjoying their newfound freedom. Ensure that the shoes you buy are lightweight so they can lift their feet without any hassle. A lightweight shoe will also prevent your baby from tripping over.
The Right Sole
Cloth slippers are fine until your baby learns to walk, as they won't require as much support on their tiny feet. However, once they start walking, they would require shoes that have a firmer sole.
A stiff sole won't make it uncomfortable for your baby; instead, it would help ensure that your baby has solid footing on all surfaces. It will also protect them from any sharp or hard materials they may encounter while exploring.
Rubber soles work best, allowing babies to grip the floor because the last thing you want is for your baby to fall over because of the shoes they are wearing. They provide the right traction to help prevent your baby from falling over on smooth surfaces.
Flexibility
The material of the shoes you choose for your baby should be flexible enough for them to walk comfortably. If the shoes are not flexible, they may irritate, turning into blisters.
The shoes should be able to bend and stay intact with their feet to prevent any accidents while your baby is running. To gauge how flexible the shoe is, bend it over and see if you can easily fold the shoe so that the toe and heel touch.
Breathable Material
Remember that your baby has just started walking and is getting used to the concept of wearing shoes. It is important that the shoes are comfortable and of breathable material to avoid their feet getting sweaty and smelly during the summers.
A breathable material will ensure that your baby's shoes are well-ventilated and airy and, in turn, make them comfortable for those little feet.
Right Size
The most important factor to consider when going shoe shopping for your little nugget is to buy a shoe that fits perfectly. The shoes should be comfortable enough for them to walk freely and have a bit of wiggle room. The toe area, especially, should be wide and rounded so that their little feet have some space to spread.
Since babies grow so fast, you may be tempted to buy a bigger shoe size; however, this may develop foot problems as well as lead to more fall-over accidents. In addition, they should be loose enough that the heel of the shoes rest snuggly but not tightly around the back of your baby's heel.
Some professionals can guide you on how to measure your baby's feet to get the correct size of shoes for him.
Ease of Wear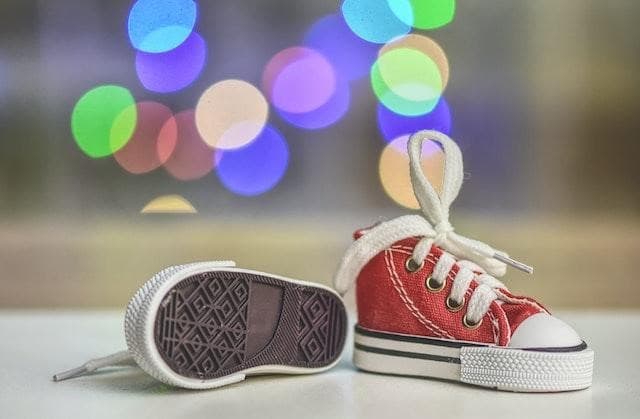 Since your toddler is not used to wearing shoes, they would want to take them off and put them on frequently. They may not be able to put the shoes on by themselves; however, it is a great time to teach them.
For this, it is best to choose slip-on shoes or shoes that have velcro. Avoid backless or slippers as they can easily slip off while the baby is running.
Versatility – Buy Shoes that Go With Every Outfit
Since it is common for a baby to outgrow a pair of shoes as early as three months, it is best to buy shoes that are ideal for casual everyday wear that go with every outfit.
While you may want to buy specific shoes for a particular outfit, it is best to wait until your baby learns to walk properly. After all, you won't want to spend money on shoes that he only gets to wear twice.
Conclusion
Keeping all these factors in mind, you will be able to buy the perfect pair of shoes that will protect your baby's feet as well as motivate them to take confident steps.