The movie industry remains one of the most flourishing ones in the sphere of entertainment. One can argue that many features have changed since the golden epoch of Hollywood, and these things are not intrinsically bad. The modern filming set welcomes everyone – from actors to SGI department technicians, and anyone can find their niche in the production. So, if you dream of a career in movie production, this article is for you.
First and foremost, try to keep your head cool and your heart warm. Some individuals manage to get their first job offer during their studies because they meet the right people at the right place. Others wait for months to get a callback and fail one attempt after another before being accepted as a staff member. 
Your value as a professional isn't defined by getting the best offer right away. Everything that matters is your passion and patience, as well as determination and the ability to look on the bright side. 
Get a Degree
Many people say that your degree doesn't matter. Most geniuses in modern cinema reject traditional film rules and subvert the principles taught in college. Similar to French New Wave members who dismissed traditional film conventions, people still try to reinvent the formula. However, is it necessary to know the formula, or is it enough to have ambitions?
Just like once you asked yourself, "how do I write my essay?", you might wonder whether your degree matters. You should look at the possibilities it opens to you. If you have a chance to enroll in college, you should take it and make the most of it.
At the same time, we think it is always better to have at least some idea of how cinema production works. The practice and theory you learn in college are drastically different, and sometimes you need to know what exactly you would transform. Moreover, you can quickly become disillusioned in your dreams if you have high expectations of the real film industry. 
Be Organized
Always estimate your time, work-life balance, and academic achievements. Never delay your essential tasks and focus on the pursuit of your dreams. Don't be Frances Ha, the titular heroine who desperately tries to make it in New York and fails to face reality. Nevertheless, Frances figures out how to be responsible for her happiness and success.
First things first, you have to learn how to keep up with your daily routines. Even if you hate lists and schedules, you have to create one at some point. If you think too much about "how to write my essay online", you can miss out on your other goals. 
As you have your life under control, it would be easier to shine like a star and show your full potential. Keep up with job responsibilities with fewer worries about your chores.
Start Small, Strive for Bigger
Take any chance to learn something about the industry. Pay attention to the position and description of responsibilities. All opportunities are good, but not each of them may be a perfect option for you. Never jeopardize your ethics and beliefs and sign up for work that goes against them. 
You may find many open positions that are part-time or unpaid to get into the set and become accustomed to its atmosphere. Don't waste your time waiting till your college is over; start taking baby steps toward your dream job. You need to create a plan where you would deal with your home assignments and cooperate with a trustworthy essay writer service while you are busy with a part-time job. 
Your presence at a movie set may be valuable for several reasons:
you can watch the production in real time;

you may start looking for open full-time positions;

you can meet people who would introduce you to senior management;

you can get acquainted with future colleagues.
Use Networking
Communicate with people around you as you enter the world of the film industry. This suggestion doesn't mean talking with every single person you meet. It is rather about building meaningful relationships and showing your professionalism at the set. 
Be genuine and cautious: you should learn how to read people and the environment. Not everyone in the industry is a contact you need to have on your smartphone. At the same time, not everyone is as open as you might expect them to be. It's all about knowing the right time and place to introduce yourself. 
Don't be too tacky or loud; the fortune loves the bold but not reckless ones. Always respect others and count on mutual respect. It would give you a favor in the future projects you might be involved in.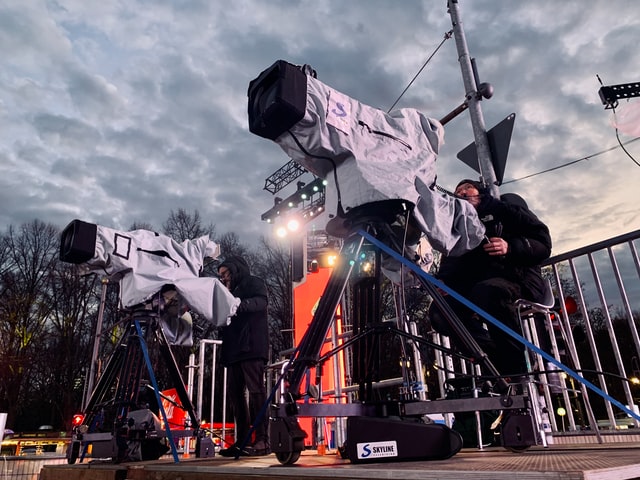 Master Your Craft
Remember to work hard on your skills in the preferable field. Having a job in the industry is a good start. Becoming a professional is the next step in your journey. 
If you aspire to grow into a screenwriter, take notes from people who can give you valuable insights. If you want to become a director, watch the professional approach of the person behind the production. Never stop learning, looking for inspiration everywhere you go, and developing your style. Anything counts if it brings you joy and improves your skills. 
Wrapping Up
You may find countless advice articles that promise you an instant career in the industry if you follow easy steps. The reality is that no one can guarantee you success from the first attempt. Sometimes it happens, sometimes not. Still, good things come to those who work and never give up.
The film industry is demanding, and you have to become your boss, assistant, and PR manager before you can relax and enjoy the results. As you enter the world of cinema, don't forget to work on your craft. Start your project and test the waters by uploading it to free media platforms. The rest would be history.