Keeping your teeth strong and healthy is important from when you're a baby to well into your senior years. Taking care of your pearly whites is important, so you need to find the right person for the job.
Finding the right dentist is hard to do, and takes some skill and experience. Whether you're looking to find your perfect dentist, or want to learn more about how to choose, you've come to the right place. Here's everything you need to know about finding the right dentist for you. Follow these tips, and keep your teeth safe and secure with the right help!
Look at their credentials
One of the first things you need to look at when choosing a dentist is their credentials. You could go to the nicest dentist in the world, but if they don't know what they're doing, you're going to have a tough time.
Make sure your dentist has a degree, diploma, or certificate from a reputable school to prove they know their craft. You should be able to find these in their ordination or on their website. Make sure to fact-check your dentist's credibility to make sure they're the real thing. 
Also, different dentists offer different services. Thus, you should make sure the dentist that you will choose has the service you need. If you need dental crowns in raleigh, then check their website, or better, call them to see if they really do offer it.
Thinks about your comfort
Going to the dentist can often be tough for many people. The harsh bright lights, the threat of pain, or a fear of doctors can make finding the right dentist hard. When looking for the right dentist, you need to choose one that makes you feel calm, safe, and comfortable. find a dentist who makes an effort to make you feel calm and collected. Dr. Brayman at Kate Brayman DDS, makes her patients feel calm and welcomed with calming colors and artwork. Whatever your dentist does, it's important that they make an effort to accommodate you.
Cares about your health
When looking for a dentist, you need to find one who takes an active interest in your health and teeth. A dentist can care about and value your health in many ways. From only promoting necessary procedures and products to making regular checkups. From actively listening to your problems and ailments to taking care and having a gentle touch. From advising you on the best course of action to valuing your input and fears. If your dentist shows more of an active interest in your teeth than your wallet, they're a keeper!
Consider their working hours
The right dentist sometimes is one that can treat you when you need it most. It's no good having the best dentist in the world if they're always booked, or are never on shift when you need them. Finding a dentist who can work with your schedule is key to maintaining good dental health.
If you work a 9-5 job, it can be hard to find a dentist who can accommodate you before or after working hours. If you don't want to risk your job, your best bet is to look for a dentist who works after hours who you can trust.
Consider price
Although you can't put a price on dental health, it is something you need to consider when searching for the right dentist. Good dentistry isn't cheap, so when looking for the right person for the job, avoid the cheapest option. Although a cheaper dentist might offer a more affordable quick fix, it's not a good idea in the long run.
On the other hand, try not to fall into overpriced scammers looking to take advantage of your dental situation. There's a fine line between low quality and overpriced dental work, that requires skill and experience to find. Make sure to look around, do your research, and find a good price for your dental work.
Get a recommendation
Often the best way to find the person you're looking for is to get a recommendation! Most people find their dentists through recommendations that they trust. If you're in the market for a dentist, it's always good practice to ask your friends and family. When asking for a recommendation, pay attention to the details. From prices to attitude, to skill, to travel distance, no detail is too small! Asking around is great for getting a point in the right direction, or looking for a second opinion.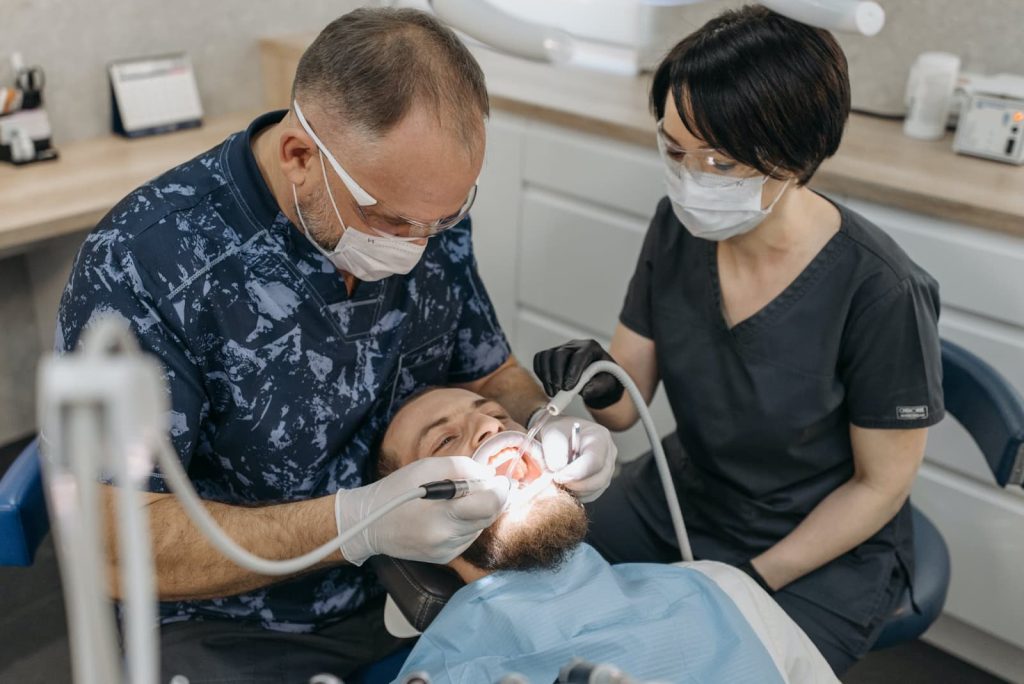 So there you have it! With these pointers and tips in mind, you're ready to go out there and find your dentist! Always begin your search by looking at your dentist's credentials and fact-checking. The right dentist will care about your comfort and will make an effort to make you feel calm and welcomed. Go for the dentist who truly cares more about your health than your wallet.
When it comes to choosing a dentist, always consider their working schedule and how it fits into yours. Factor in their prices into your decision making and don't forget to do your research. Ask around and make sure you're not paying too much or too little for your dental work. Finally, if you're stuck on where to start your search, get recommendations from your friends and family!