Alcohol addiction can severely impact your life and the lives of other people around you. Here are six tips that can help you come to the other side of alcohol addiction.
Know the difference between cutting back and quitting alcohol
Whether or not you can cut back on your alcohol intake depends on how serious your drinking problem is. If you're an alcoholic that means by definition that you are not able to control your drinking so it's better to quit drinking alcohol altogether.
However, if you're still not ready to take that step or if you don't have any alcohol abuse problems but want to dial it back, there are some tips that can help. You can set a drinking goal and limit yourself for how much you will drink – one or two drinks per day. In addition to this, try and have some days when you won't drink alcohol at all.
Mind the codependency
Another big tip is to watch out how codependency will impact alcoholism. Codependency is a state of being mutually reliant on your point to the point where your relationship becomes dysfunctional and dependence-oriented.
When one partner has alcohol abuse, there might be a big struggle with codependency. This is a learned behavior that can stop someone from having a healthy relationship. A codependent person may unknowingly enable the alcoholic person by making different excuses for their behavior or covering up for them with friends or family. While the codependent person might believe they are helping their partner, they are doing them great harm.
Turn to loved ones
Turning to loved ones can help you come to the other side of alcohol addiction. Friends and family can be a great source of encouragement and support when a person stops drinking. By opening up about your alcohol addiction you may also encourage others to question their drinking habits as well.
Ultimately, having a support system throughout the process of getting sober can help you come to the other side of alcohol addiction more easily. They can also help hold you accountable and boost your motivation to stay sober. Make sure to ask your loved ones for help and know that you are not alone, it's essential to talk to people around you, especially during the recovery process.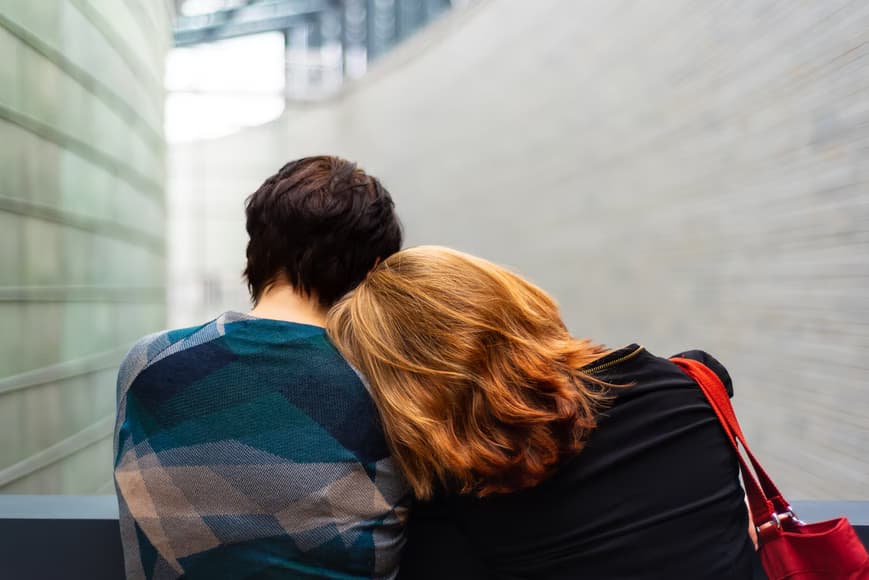 Consider professional help
Another important tip that can help you get sober is to seek out professional help. Deciding to get sober is one of the most important life decisions a person can make if they have an alcohol addiction.
Going to an alcohol rehabilitation center is one of the things worthy of consideration because many professionals can help you with this transition in a calm and safe environment. These options of getting professional help at a rehabilitation center can have an immeasurable impact on your sobriety. This is why most people turn to these options when they want to quit alcohol and start recovery. The safest way to overcome such a thing, is in a professional setting, with professionals who know exactly how and what to do. 
Finding a community will help a lot
Like we've previously noted, turning to your friends can help a lot. In addition to this, finding a community like AA (Alcoholics Anonymous) is one of the suggested steps that will tremendously help in coming to the other side of alcohol addiction.
AA meetings are only attended by former alcoholics and people who are trying to quit so it's only attended by people who directly have alcohol abuse problems. This is a safe, non-judgemental space with many experienced former alcoholics that can give advice. In addition to this, everyone has an AA sponsor who is their person to turn to in the community who has more experience in getting sober. 
Stress Management
Last but not least, one of the best tips that can help you get to the other side of alcohol addiction is to learn how to manage stress. Many people turn to alcohol to relieve their stress which can then lead to an addiction. Whether you're experiencing a major stressor (like getting fired) or minor stress you need to learn how to manage it.
Learning how to relieve stress can help you stay sober because it will prevent you from going to your former stress reliever – alcohol. Going to therapy or seeking professional help within the community may help you deal with stress more easily. Stress is generally a very harmful experience, especially if your previous stress relief was tied to alcohol consumption which makes some people more prone to relapse.
Getting sober takes tremendous effort and hopefully, these six tips can help you get to the other side of alcohol addiction. Having a strong support system and maybe asking for professional help can have the most impact on your wellbeing and your recovery path. Even looking at options for help is a big step in the right direction, especially if you ask your loved ones and friends for additional support.