Sports Physiotherapy deals with an aspect of healthcare that is primarily associated with preventing injury and rehabilitating athletes who are participating in sports activities. It uses a combination of techniques including stretching, ultrasound, manual therapy using heat or ice, acupuncture, electrotherapy, and vestibular therapy to maintain fitness and top function.
Here are some of the greatest advantages of Sports Physiotherapy:
1. Enhance Physical Strength
Physical strength is the top priority for any athlete or sports person and as they participate in various activities that require physical strength, it gets affected significantly. To make sure your body is performing at its peak efficiency, you can opt for sports physiotherapy. It not only helps you achieve a higher level of physical pressure but also prevents your body from staining the muscles, bones, ligaments, and joints. Ankle injuries are one of the most common sports-related injuries, particularly among athletes who participate in contact sports such as football and basketball. You can check out this website to learn about the steps that athletes can take to reduce their risk of suffering an ankle injury while playing sports. With a few simple precautions, such as wearing proper shoes and strengthening the muscles around the ankle joint, athletes can significantly reduce their chances of getting injured.
2. Help Your Body to Relax
Relaxation is equally important for your body as much as exercise. After every workout or playing, it can be pretty hard to unwind or relax. While athletes generally believe in pushing their limits and exercise until wearing themselves out, if you can relate to this then you will certainly benefit from a sports physiotherapist. They can help your body heal quicker and stretch your body for quicker recovery. With the power of sports therapy, you can regain the body energy in an effective way for the next day.
3. Improve Joint and Muscle Flexibility
Being flexible is important no matter what sport or activity you are involved with but your flexibility requires could differ with the sport. Depending on the kind of sport you are involved with, your flexibility requirements will change. You can work on achieving your needed flexibility with a sport therapist who will help you work on your goals while getting you fitter and healthier.
4. Prevent Injuries
Body strength helps you become less susceptible to torn ligaments, muscle strain, cramps, or any other sports related injuries. Your sports physiotherapist could help you come up with a plan according to your body needs. Depending on your needs you can include various exercises to help your body strength and the condition of your body for the sports activities you are involved with.
5. Treat Injuries
Accidents and sports injuries are very common during any kind of sport or play. It can happen to even the best players. In circumstances like this, a sport therapist will help you recover quickly while preventing any complications from any injury that can happen in the future.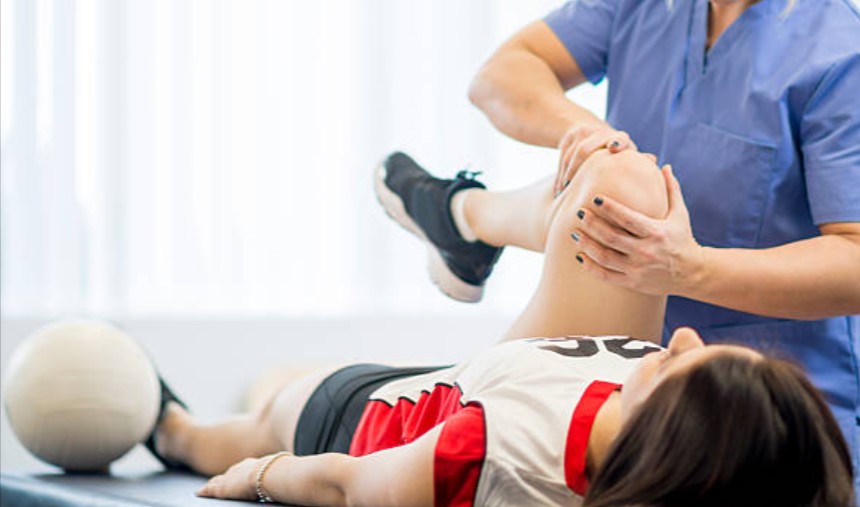 Common Sports Injuries Physiotherapists Can Treat
This list includes, but is certainly not limited to:
Ankle sprains and ligament tears
Osgood Schlatters Disease
Meniscal/cartilage tears
Capsule sprains
Medial and Lateral Ligament Dysfunction
Patellofemoral Syndrome
Herniated discs
Neck and back compressions
Concussion and whiplash
Shoulder dislocation
Rotator cuff tears
Muscle tears
Plantar fasciitis Knee Sprains
MCL, ACL, and PCL tears
Anterior and Posterior Ligament Dysfunction
Hip compressions
Wrist sprains
What to Expect When You See a Sports Physiotherapist
Before any treatment, you will have an assessment (consultation) session. This will include answering questions about your medical history, lifestyle, what sport(s) you take part in, and any other relevant information. This is all in order to help your physiotherapist assess your situation and you'll get to know each other better. Feel free to ask them questions as well.
Once they gather the necessary information, they will assess your injury (if you are seeing them for the first time with an injury). This session may involve functional movement, posture, and ligament stability.
If you are seeing the physiotherapist for an injury, Healthbound physiotherapy Toronto will discuss a treatment plan with you. Feel free to raise any questions or concerns with them at this time.